Tel:0769-83758681 83758682 83758683
Direc Line of Foreign Trade:+86-769-83758789
Fax:0769-83758878
person:Mr.Yin Mobile:13509202383
www.tinboxjbl.com | www.dgjbl.com
E-Mail:tin@dgjbl.com
Company Profile
Ju Bao Long Metal Can Co., Ltd. specializes in manufacturing tinplate packaging materials with Custom Design, including Rectangle, square, round, heart-shaped, octagonal and other irregular tin series that are mostly used as Food tins, Coffee & Tea tins, Lunch tins, Gift and Promotion Item, Wine tins, stationery, Money cases and so on. Located in the coastal area, Dongguan City, and the main center of Jingjiu Railway, Changping Town-Dongguan Railway Station, our company benefits from well-developed and convenient land, air, and sea transportation networks as the new tins-manufacturer that was built in the beginning of twenty-one century.

Due to our abundant financial advantages, we have established a completely new and modern factory which occupies over 18,000 square meters. Our facilities are equipped with more than 15 production lines and there are over 400 highly trained technicians specializing in tin manufacturing working
there. Moreover, we possess advanced mold technology and experienced mold designers as well that enable us to continually design and develop new molds. Supplying superior quality products and consistently improving on our past achievements to provide total customer satisfaction is our operational principles. Keeping that in mind, we have a comprehensive quality control system in place that is in strict compliance with ISO9001:2008 regulations. If you are looking for the latest in packaging designs to promote your products, remember to contact with us. We can supply you with our patented and unique packaging solutions.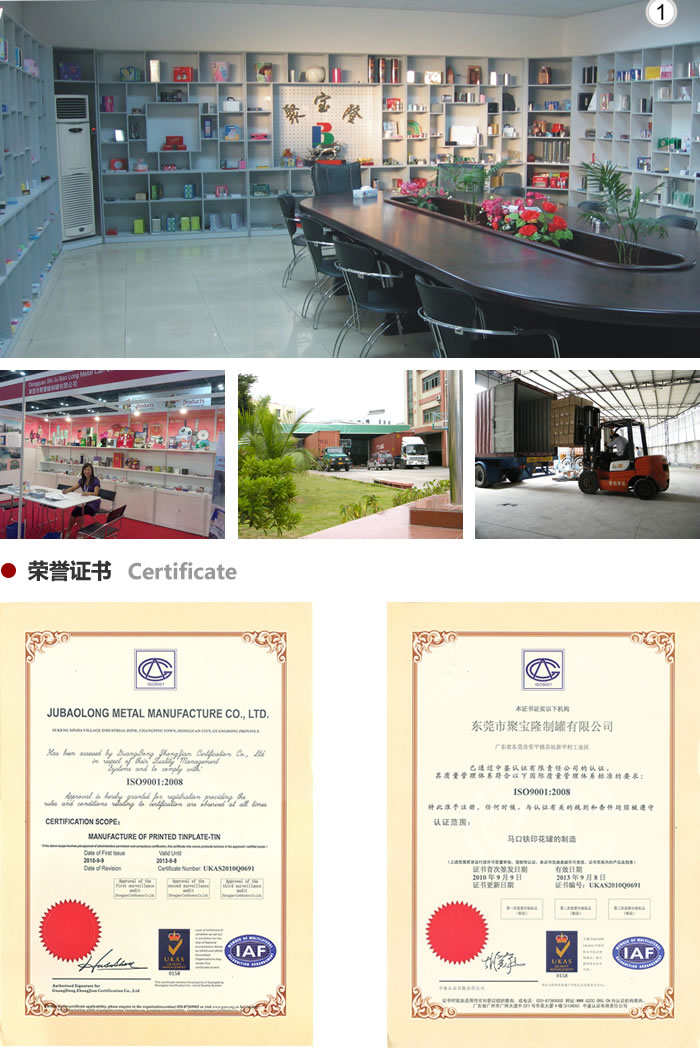 If you are not able to view the animated picture please install plug-in first Enter
Copyright © 2012-2016 JuBaoLong Metal Can Co., Ltd. All Rights Reserved